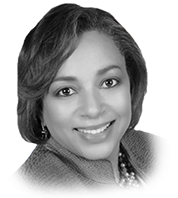 Dominique Simpson Milton, MBA
Dominique Milton serves as the President & Chief Engagement Officer of the Carolinas-Virginia Minority Supplier Development Council (CVMSDC.org also known as The Council – less of a tongue twister.)
As an "Intentional Connector," Milton's goal is to close the wealth gap by Certifying, Developing, Connecting, and Advocating for Ethnic Minority-Owned Businesses (MBEs).
The Council serves minority business owners and corporate partners in North Carolina, South Carolina and Virginia. As a regional affiliate of NMSDC.org – a 52-year-old, non-profit advocacy group – they are the largest certifying agency for MBEs in the nation.
With over 16,000 members nationwide, CVMSDC is the go-to growth engine for MBEs.
Voted as 50 Most Influential in Charleston, SC, Diversity Plus Magazine Top 25 Diversity Change Leaders, and a Top 25 Supplier Diversity Professional, Milton is a specialist in new business development. A proud HBCU graduate of Spelman College, Milton holds an MBA in Marketing from Penn State and is currently working toward a Doctorate in Business Administration. Milton has received numerous awards for retail performance, business growth, and product expansions and serves on multiple boards in NC and SC.
Dominique and her husband William Milton Jr., CFP TM reside in Charleston, SC, and are the proud parents of three young adults.